Introducing Microscan's MicroHAWK Barcode Readers
The World's Smallest, Most Intuitive Industrial Barcode Reading Platform
Meet MicroHAWK, the world's smallest, most intuitive barcode reading platform. Built on the highest-performance imaging engine in its class, MicroHAWK offers an array of modular hardware options to take on any decoding task. No software to install, no compatibility obstacles, no experience needed. Just plug in and open a browser.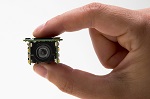 Incredibly Small: the smallest on the market
Incredibly Intuitive: easy to install, no software required
Incredibly Powerful: two times faster than MINI HAWK
Incredibly Agile: available for order in pre-defined configurations

• Plastic Enclosure
• IP40
• USB connection
• 5V Power Source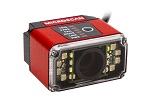 • Aluminum Enclosure
• Serial/USB connection
• 5V Power Source
• Add-on LEDs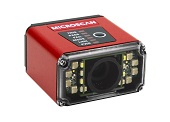 • Aluminum Enclosure
• IP65/67
• Serial/Ethernet connection
• 5-30V Power Source
• Opto I/O
• Add-on LEDs
ID-20: OEM Barcode Reader - The world's smallest full-featured and fully-integrated barcode imager, ID-20 offers OEMs and traceability engineers a perfect set of value and performance options in a tiny, simple, and streamlined solution for embedded designs or WIP traceability. ID-20, the only reader of its kind, offers a single-cable solution that utilizes USB for both communication (USB 2.0 High Speed and Ethernet over USB) and power to enable plug-and-play integration. Mini is now micro and incredibly easy to use.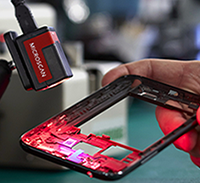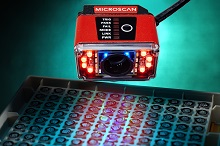 ID-30: Miniature Barcode Reader - A micro-sized barcode imager with huge potential, the ID-30 features an inno­vative space-efficient design with a corner exit cable and high-density 15-pin connector (serial, USB, or Ethernet over USB communications). Perfect for OEMs and machine builders, the ID-30 offers the perfect combination of size, performance, and simple plug-and-play integration. The ID-30 outperforms any reader in its class and is the ideal solution for automation engineers looking for incredible performance in a micro-size.
ID-40: Industrial Ethernet Barcode Reader - A revolutionary new product, the ID-40 redefines the imager market as the smallest IP65/67, true-industrial Ethernet barcode reader. With best-in-class decoding technology for 1D/2D or directly-marked (DPM) codes in a rugged, ultra-compact case, the ID-40 is the com­plete package for solving any barcode reading challenge under any conditions. Combining unprecedented ease-of-use, exceptional performance, and ultra-small form factor, the ID-40 sets the benchmark as the ultimate compact imager in the industry.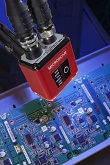 WebLink: World's 1st Browser-Based Barcode Reading Interface - Microscan introduces the world's first browser-based barcode reader interface. Set up, test, control, and monitor MicroHAWK barcode readers from the web browser of your choice using the intuitive WebLink user interface. Simply enter a reader's IP address on any web-enabled host and follow Assisted Setup to start decoding. Adjust reader controls remotely, regardless of physical access to the barcode reader, and monitor decoding results in real time.
Highly Customizable Options

SENSOR:
WVGA, SXGA or
QSXGA

DECODER:
Standard, Plus or X-
Mode

SPEED:
Standard or High-
Speed

LENS:
Standard or High-
Density

LIGHTING:
Inner/Outer; Red or
White Leds