Highest Performance Handheld Direct Part Mark Imager.
The Mobile Hawk is the world's highest performance handheld imager and easily reads any barcode or 2D symbol, including challenging direct part marks (DPM). Using advanced technology, the Mobile Hawk combines patent-pending MAXlite illumination with aggressive X-Mode DPM algorithms. The result is the easiest plug and play mobile imager for all code types on all materials.
The Mobile Hawk is ideal for any low contrast DPM application where reliability and ease of use are important.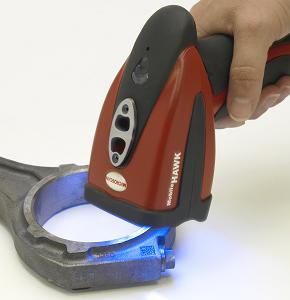 Decode Any Symbol
Using advanced X-Mode decode algorithms, the Mobile Hawk consistently captures low contrast, damaged, or otherwise challenging direct part marks. Both linear and 2D symbols are read in any orientation.
Easy to Use
Mobile Hawk imagers feature simple point-and-click targeting, with audible, vibrator, and multipurpose visual user systems to provide real-time feedback. Easy connectivity and portability are ensured with direct, single cable USB power draw.
Rugged Design
Featuring a ruggedized design with a permanent lanyard hook, the Mobile Hawk includes a secured cable and durable overmolded housing capable of withstanding multiple 6' drops to concrete.
MAXlite Technology
The Mobile Hawk includes MAXlite (Multi-Axis Lighting) technology for even illumination of fl at, shiny surfaces, enhancing embossed features, or differentiating features on curved surfaces. The wide range of capabilities ensures reliable reading of the toughest direct part marks.
High Processing Speed
Fast processing speed allows the imager to acquire and decode multiple symbologies within seconds of each other, without any adjustment to the imager.
Application Examples
•Automotive
•Electronics
•Aerospace
•Department of Defense suppliers