Introducing Omron Adept Industrial Robot Solutions
We are excited to bring you a new line of robots from Omron Adept Technologies that enable complete automation solutions to be designed from a single source. We now offer SCARA, Parallel, Articulated, and Mobile robot solutions. To deliver complete automation solutions, these best-in-class industrial robots have been integrated with Omron's family of sensors, safety components and award-winning NX/NJ series machine automation controllers to simplify the implementation of robots in a production environment.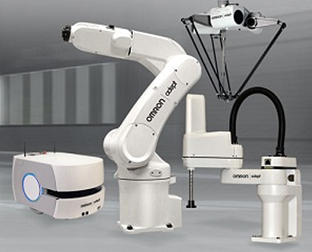 About Omron Adept Technologies, Inc.
Omron Adept Technologies, Inc. is a global, leading provider of intelligent vision-guided robotics systems and services. Joining Omron Corporation in October 2015, Adept is now a part of the acceleration of OMRON's "ILO+S" (Input, Logic, Output and Safety) strategy for its Industrial Automation Business, which provides automation solutions for the manufacturing industries. Adept systems provide unmatched performance and economic value throughout the production lifecycle, enabling customers to achieve precision, quality and productivity in their assembly, handling and packaging processes. Founded in 1983, Omron Adept Technologies is the largest U.S.-based manufacturer of industrial robots. Adept intelligent automation product lines include industrial robots, mobile robots, and other flexible automation equipment, machine vision, and systems and applications software. Omron Adept provides cost-effective robotics systems and services to high-growth markets including Packaged Goods, Life Sciences, Electronics and Semiconductor; as well as to traditional industrial markets including machine tool automation and automotive components.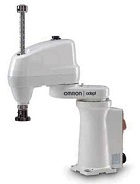 Cobra 350
Reach: 350mm/13.8in
Max. Payload:5 kg/11lb
Axis:4
IP Rating: IP 20
*User-friendly interface
*High-resolution, absolute encoders
*high-efficiency, low-inertia harmonic drives
*8kHz servo update rate
*10/100 Base-T Ethernet TCP/IP
High-Performance SCARA robot system for mechanical assembly, material handling, packaging, machine tending, screw driving, and other applications that require fast and precise automation. Omron Adept Cobra Series robots deliver performance unmatched in the industry with the included Adept Smart Controller.

eCobra 600
Reach: 600mm/13.8in
Max. Payload:5.5 kg/11lb
Axis:4
eCobra 800 / 800 Inverted
Reach: 800mm/23.6in
Max. Payload:5.5 kg/11lb
Axis:4
IP Rating: IP 20, IP 65
Omron's Adept eCobra 600/800 SCARA robot series features 600 or 800mm reach and is available in three performance tiers, each designed to address different application complexity and throughput requirements. eCobra offers a compact footprint, saving valuable floor space while minimizing installation costs and complexity. This unique family ensures that users receive the highest quality, most durable robots at every performance level.

Viper s650
Reach: 650mm/13.8in
Viper s850
Reach: 855mm/33.6in
Payload:2.5kg rated, 5kg max
Viper s1300
Reach: 1298mm/51.1in
Payload: 5kg rated, 10kg max
Viper s1700D
Reach: 1717mm/67.6in
Payload: 10kg rated, 20kg max
Axis:6
IP Rating: IP 40
The speed and precision of Adept Viper six-axis robots make them ideal for operations requiring fast and precise automation. The Adept Viper six-axis robot is a high-performance articulated robot ideal for assembly, material handling, packaging, machine tending, and many other operations requiring speed and accuracy in a 650mm or 850mm reach.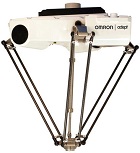 Hornet 565
Reach: 565mm/13.8in
Max. Payload:8 kg/17.6lb
Axis:3, 4
IP Rating: IP 40 above mounting points, IP65 below mounting points, IP65 optional cable sealing kit
Designed for Primary and Secondary Food Packaging, the Hornet 565 is a parallel robot for high-speed picking and packaging applications. The powerful controls are fully embedded into the base of the robot, saving valuable floor space and reducing installation costs and complexity. It features a hygienic design that minimizes contamination risks, including a standard IP65 rated work area and corrosion resistant materials for easy wash down.

Quattro 650H/HS
Reach: 1300mm/51.2in, 500mm/19.6 in Z-Axis
Max. Payload:15kg/33lb
Axis:4
USDA accepted for primary food handling
Quattro 800H
Reach: 1600mm/62.9in, 500mm/19.6in in Z-Axis
Max. Payload: 4kg/8.8lb
IP Rating: IP 65 base, IP67, IP67 Tool
The Quattro Parallel robot excels at high-speed applications in packaging, manufacturing, assembly, and material handling. It is the only parallel robot (or "delta robot") in the world with our patented four-arm rotational platform, delivering maximum speed, maximum acceleration and exceptional performance across the entire work envelope. Ultra-compact controls and embedded amplifiers improve footprint efficiency while simplifying installation.

Sysmac Delta
Reach: 1300mm/13.8in
Max. Payload:1 kg/11lb, 2 kg,     3 kg, 8 kg
Axis:3, 4
IP Rating: IP 69K, IP65, IP67
The Delta solution can achieve up to 200 cycles per minute and can be synchronized with multiple conveyors to perform on-the-fly Pick & Place operations. There are 3 types of Delta robot arms available as Washdown, Delta and Mini Delta robot. The NJ controller offers a response time of 2 ms when controlling 8 Delta robots or 1 ms when controlling 4 robots.