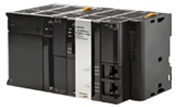 The heart of the new automation platform is the Sysmac NJ 501 & 301 machine automation controller. A completely redesigned hardware system with a powerful Intel® AtomTM processor proven for harsh environments shifts from a rigid ASIC based architecture to an adaptable and scalable software centric design. This ultra-compact market leading technology gives you ultimate flexibility without compromising on the traditional reliability and robustness that you have come to expect from Omron PLC's.
Based on an Intel microcontroller, the Sysmac NJ-Series Machine Automation Controller shifts from the traditional rigid ASIC based architecture to a flexible and scalable software-centric one. To achieve such bold a transformation while retaining the legendary reliability and robustness of an Omron industrial controller, Omron worked closely with Intel. Intel considers Omron Industrial Automation as its number one partner in Factory Automation in Japan. Though the controller architecture is new, Omron made sure to maintain seamless compatibility with existing hardware. The Sysmac NJ-Series leverages pre-existing PLC hardware, like I/O, communication, and RFID interface modules for the CJ-Series, as well as servos and drives. By doing this, the one Machine Automation Controller ensures not only speed, power, and flexibility to solve the most complex applications, but also protection of investment.
Sysmac Studio Automation Suite
The Sysmac Studio true Integrated Development Environment (IDE), part of the Sysmac Studio Automation Software Suite, was created to give machine builders full control over their automation system. The Sysmac Studio IDE integrates configuration, programming, simulation and monitoring of the logic, motion, and vision into one software environment. Thus, eliminating the inherent issues when developing over several separate software titles that make design, development and validation cumbersome. The Sysmac Studio Automation Software Suite includes not only the IDE, but all other HMI development and network configuration software to achieve a full NJ-Series Machine Automation Controller (MAC) solution.
Sysmac Studio Automation Suite
Within the Sysmac Studio, a graphically-oriented configuration allows quick layout of the controller, field device, and network hardware, directly along side the associated programming. Machine and motion programming are based on IEC61131-3 standards and PLCopen function blocks for motion control, reducing learning and programming time. A smart editor with online debugging facilitates quick and error free programming, while advanced offline simulation of sequence and 3D motion profiles, such as cams and complex kinematics, prevent delays in validation due to lack of hardware. Data logging and data trace reduce machine tuning and commissioning, with complete project security and organization features ensuring integrity and easier forward migration.
The countless productivity benefits in having One Software make the new Sysmac Studio an integral part of all phases in the machine life cycle.