GP4000 Series Operator Interfaces

Best in Class Connectivity, Powerful HMI Functionality and Full Compatibility with Pro-face GPProEX 3.0 and GP-4000 products and projects.
GP-4000: The New Pro-face Standard
Easy to Use: Operators can easily monitor conditions and the operating environment in real time using 3D real parts.
Saves Energy: Reduces on-site power consumption in a variety of ways including an on-board LED backlight in all models, and a dimmer setting used to decrease and eventually stand-by the display after being idle for a set period of time.
Quick On-site Recovery: Simply touch the alarm message to check the relevant data in chronological sequence.
Remote Monitoring: GP-Viewer EX software provides various remote monitoring functions, such as checking the screen of the GP located on a production site from a remote office.

GP4000 Series Operator Interface
Full Graphics, Touch Screen Operator Interfaces
Easy to Use: Operators can easily monitor conditions and the operating in environment in real time.
Full featured and intuitive development software.
Connectivity choices: RS232C, RS422/485, SD Card, Ethernet interfaces.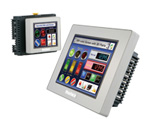 GP4000M Series Modular HMI, Quick Mount, Crystal Clear Display
TFT Color Display for operator visibility
Innovative 22m mounting saves cost
Modular Screen Replacement reduces downtime
World Class Connectivity leverages your automation investment
The GP4x01M Series HMI offer 3.5" and 5.7" LED backlit LCD Displays. Display and Communication modules can be separated for quick mounting into a standard 22mm hole without the need to create a larger panel cutout. It offers a full graphics touch screen interface with a selection of serial or ethernet connectivity. These models are programmed with the versatile GP-Pro EX development software.