750-88x Ethernet 2.0 Programmable Controller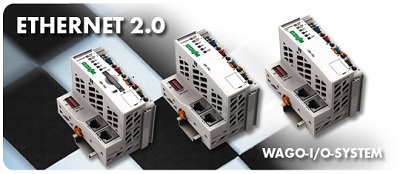 Seize the Game with ETHERNET 2.0 Controllers
For automation engineers who strive to enhance machine or process performance, speed system development and reduce automation costs, the WAGO Ethernet 2.0 programmable controllers provide game-changing flexibility and a proven architecture that simply works.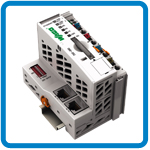 Highlighted Features
• 60% more control and maintenance budget – without sacrificing performance or support.
• 1,000 instructions processed in 235 µs – with high speed processing power
• Up to 5x smaller than other PLCs-allows you to put more in the same enclosure or use smaller enclosures.
Extended Features
• IT protocols: HTTP, BootP, DHCP, DNS, SNTP*, SNMP*, FTP
• Industrial networks: Modbus/TCP and EtherNet/IP* built-in
• Two ETHERNET interfaces and an integrated switch allow the fieldbus to be wired in a line topology. This eliminates additional network devices, such as switches or hubs.
• Minimumof 1MB program memory and 512kb data memory
• Web-based management and visualization
• 2MB for built-in file system and web server functions
• Access to over 400 digital, analog and special function I/O modules
• 24-month warranty, free technical support, and free factory training
*750-881, 750-880, 750-880/025-000
Seize the Game with ETHERNET 2.0 Controllers
Wago-I/O-Pro CAA Software Solution
Site license IEC 61131 programming tool supports 6 programming languages, online debugging, offline simulation, integrated HMI tool, no maintenance fees, no renewal fees, free upgrades, and more.