Matrix Machine Guarding Solutions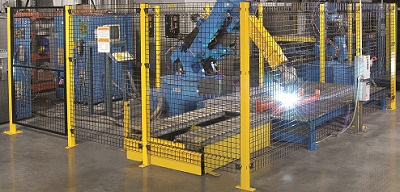 Wireway Husky's Matrix Guard provides the customer with a revolutionary, new design that permits fast and easy installation for Machine Guarding.
Quick and Easy Assembly : The complete Matrix Guard system makes it easy to design, rearrange, or expand enclosures without skilled personnel in the plant or warehouse areas.
Flexible Design : With a variety of sizes, styles and options available, Matrix Guard is the best value in the industry.
Fast Delivery : Quick ship - When you absolutely have to have it shipped in 48 hours or better.
Hexhead Bolt-On Installation : The Bolt-on clip applies to the bottom of the wire mesh panel and post when installing. The Hex head Bolt is used to secure the panel to the post.
Incredibly Easy to Install : Our measured installation times with several major competitors' components show that Matrix Guard installation times are 4 to 5 times faster and therefore less costly. Their revolutionary, patented hook design makes Matrix Guard so easy. Separate hook fastener on partitioning slips on easily and locks securely into 2-1/2 square post (more secure than any bolt system). The 2 x 2 x 8-gauge welded wire mesh adds extra strength and security.
Strong & Secure : Matrix Guard gets its strength from all-steel construction, its system of anchoring to the floor with 3/8 thick pads, and unparalleled 2.5 square high strength steel
tubular posts.
Maintenance-Free : Matrix Guard will look new for years to come due to our high quality polyurethane.
Available Options :
- 6 foot high with single swing door
- 6 foot high with double swing door
- Standard colors - YELLOW POSTS & BLACK PANELS
- Post with electric interlock switches
- Cable tray guide
- Door Foot pad - 7.75" x 7.75" x .375"
- Swing door opens 180 degrees
- 6 foot high Tunnel Slide Door