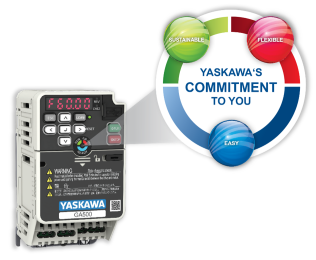 Yaskawa's Newest Drives
GA800 and GA500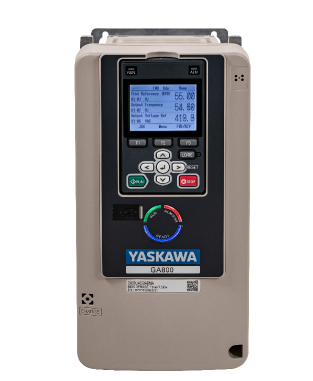 GA800 1 - 500 HP
The Yaskawa GA800 drive provides the ultimate combination of power, ease of use, flexibility, and performance. In addition to its exceptional torque production and precise control, you'll enjoy effortless setup with the GA800's high resolution display and connection to your favorite mobile device. Whether you need simple control, advanced network communications or functional safety, look no further than the GA800 for all your variable speed needs. The design of the GA800 was driven by user needs that focus on sustainability, flexibility, and ease of use.
For Today and Tomorrow
Yaskawa products have been designed for a long life with machine safety and environmental impact in mind.
• Embedded safe torque off minimizes downtime
• 12 pulse version minimizes input harmonics
• Conformal coating resists contamination
• RoHS material for environmental friendliness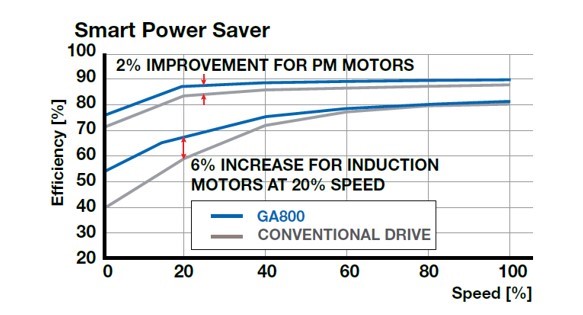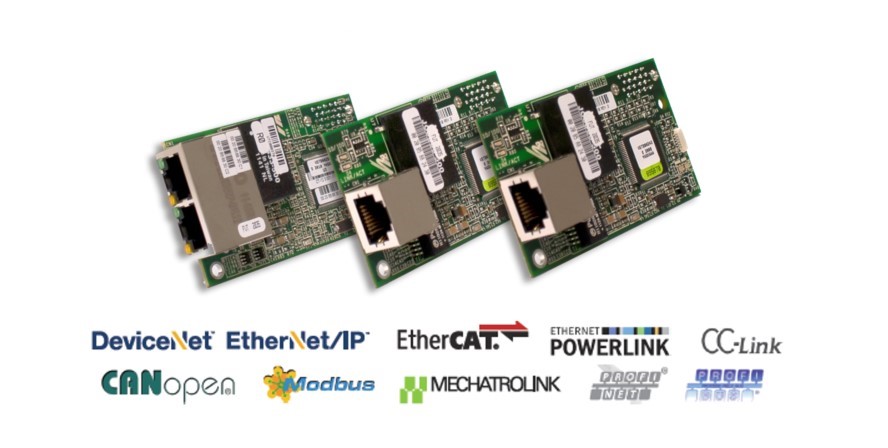 Control
Utilize a variety of communication methods to talk in any environment, at anytime to meet your application requirements.
• Ethernet I/P
• Modbus TCP/IP
• Modbus RTU
• EtherCat
• Profibus-DP
• Profinet
• Auxiliary power input
Simple Setup
All Yaskawa drives have the same parameters, so once you know one drive – you know them all.
• High resolution display with Setup Wizards and Data-Logging
• Bluetooth and DriveWizard Mobile for convenient and easy interaction
• No Power? No Problem. Communicate with GA800 via power from your PC or mobile device!
• Store your drive's data locally or push to / retrieve from the Yaskawa cloud!
• DriveWizard Desktop for comprehensive configuration and monitoring
• DriveWorks EZ provides custom capability with function block programming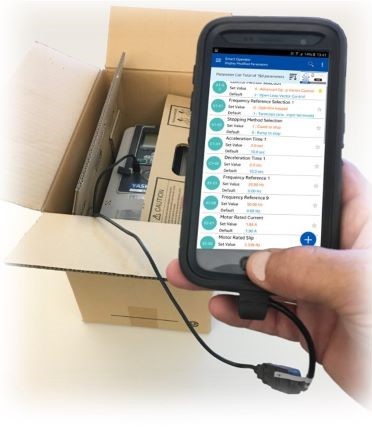 The GA800 is currently available for purchase and will replace the A1000. Click here to view the drive transition guide or give us a call to discuss the details.
GA500 1/8 – 40 HP
The GA500 Industrial AC Microdrive is engineered to help you easily handle any application. Sustainability, flexibility, and ease of use are all designed into the drive, helping you make complicated tasks simple. Offering intuitive interaction and world-class quality, the GA500 is the drive you can count on for constant, high quality performance.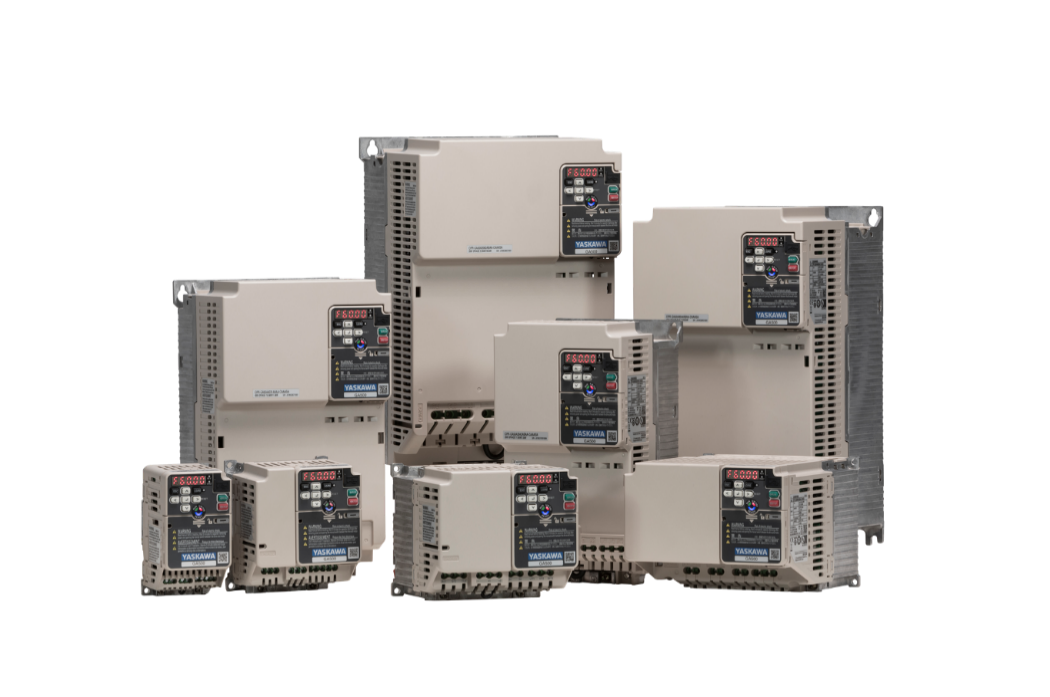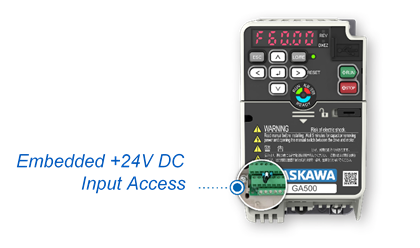 Time & Cost Savings
• Operates any motor on any network
• DriveWorksEZ® improves customization by eliminating a PLC and simplified wiring
• Integrated braking transistor
• Integrated EMC filter (optional)
• Integrated 24 VDC power supply supports use of external sensors without extra power supply
Easy Installation & System Integration
• Embedded functional safety STO: SIL3, Ple
• Embedded Modbus RTU
• Up to 5 drives with 1 network option card
• Side-by-side mounting
• DriveWizard® Mobile app for easy and convenient setup
• Supports all major networks
• Drive Cloud, providing a safe location to store drive information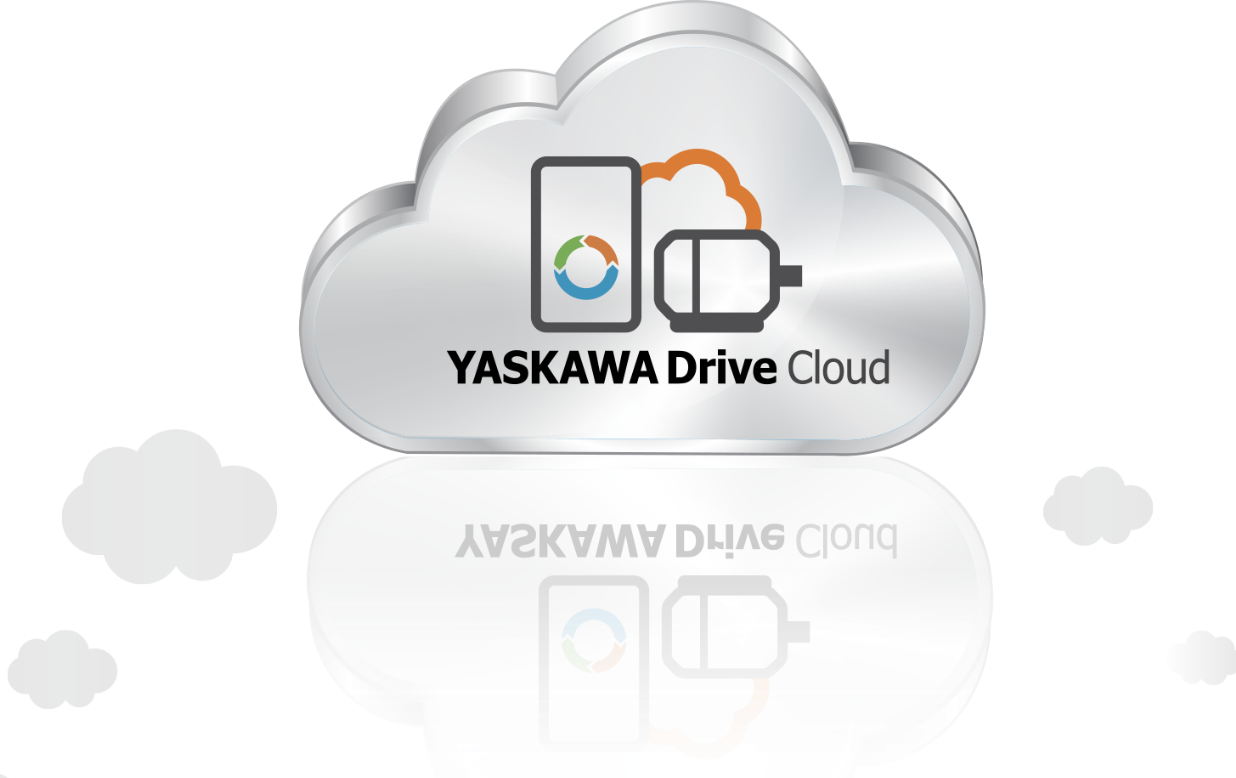 The GA500 is currently available for purchase and will replace the V1000. Click here to view the drive transition guide or give us a call to discuss the details.